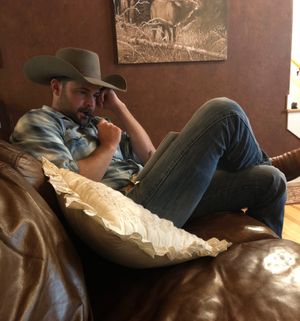 Bio
Chris Petersen is  known for his authentic and original music that speaks to his love of the country lifestyle. With a timeless voice and tireless work ethic, Chris has quickly gained a loyal fan base and critical acclaim. He was featured on season 15 of America's Got Talent, where his performance was hailed as "brilliant"by Simon Cowell. His album, "Cowboy Coming Home," produced by Trent Willmon, reached the top 10 albums of all genres on the Billboard Mountain Region Heatseekers Chart. Chris was also crowned the  winner of the national competition, Country Battle USA and took home a $15,000 prize.
Chris' latest single, Horse People already had a huge impact. After Chris posted a clip of the song to social media it amassed over 2 million views in under a week.
Raised in the heart of the Rocky Mountains, Chris developed a love for horses and the cowboy lifestyle from a young age. He started Diehard Cowboy, a company dedicated to sharing his love for the cowboy lifestyle and music.
Though Chris was initially afraid of singing in public, he overcame his fears with the encouragement of friends and musicians like Collin Raye. He has since played all across the country.
With a deep respect for the men and women who serve our country and communities, Chris has written two songs in their honor. But most importantly, Chris is a family man, and he and his wife Mckensie work together to bring their love of music to venues, fans, and communities across the country.